Lucien Gau wall lamp 14442 Dutch style
€939.00
Or 4X €234.75 without fees
The 14442 wall lamp by Lucien Gau is a remarkable piece of Dutch style interior decoration. With its premium materials and elegant design, this wall light is perfect for those looking to add a touch of sophistication to their interior.
Composed of two sockets for E14 bulbs, with a height of 35cm, 32cm wide and a projection of 17cm, it knows how to attract the eye while remaining discreet.
Read more ...
Shipping in 24/48h !
Shipping in 24/48h with other options
FREE delivery all over Europe

Payment in 2x 3x or 4x times free of charge

Satisfied or refunded

LED bulb offered with each lamp
The wall lamp is made from bronze, a material that gives it great durability and is offered in many finishes. The design is elegant and sophisticated, with elaborate details that give it a timeless appearance.
  This 14442 wall lamp by Lucien Gau is a fine example of this style, with its relief patterns and curved shapes reminiscent of the decorative elements of traditional Dutch houses.
The 14442 bronze wall lamp by Lucien Gau is perfect for lighting living rooms, bedrooms, hallways or libraries. Its build quality and intricate details make it a top choice for those looking for functional and stylish lighting.
In summary, the 14442 patinated brass wall lamp by Lucien Gau is an elegant and sophisticated Dutch style interior decoration piece that will bring a touch of sophistication and glamor to any room. Its quality craftsmanship, intricate details and impeccable finish make it a top choice for those looking to add a touch of elegance to their interiors.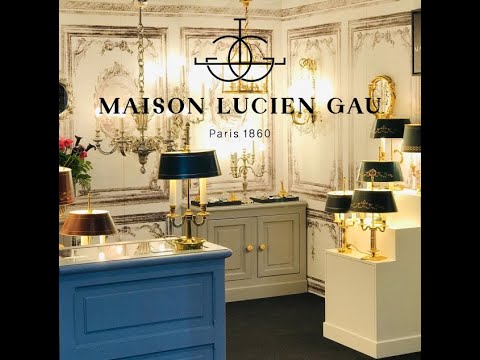 MAISON LUCIEN GAU
Originating with Charles Gau in 1860, the LUCIEN GAU firm, Founded in 1934, benefited from the savoir-faire of several generations of Parisian fine bronze-smiths. 
Today Lucien Gau is one of the leading European names in lighting and is active on markets in more than 30 countries world-wide.

A production plan at Melun near Paris FRANCE covers an area of 5,000 m² and groups all the phases of fabrication from transformation of raw materials to packaging and dispatching, making any type of décor.

A integrated design office and prototype studio enable Lucien Gau to handle original designs or restoration of period pieces, and to collaborate with creators, decorators and architectural firms.
Les Styles comprises over 2000 original models in traditional sand-cast bronze with hand-worked patina. There is also an important range of light fittings that use bohemian crystals or strass.